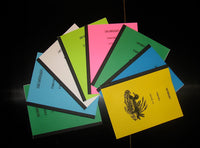 Take the effort out of teaching music theory!
Using a conversational manner and a touch of humor to make learning fun, your students will no longer dread theory – and neither will you!
Teachers can use the Barss Music Theory Books:
- during lessons
- as homework
- in a lab (individual or group) environment
- for student self-paced study
Based on a comprehensive curriculum, the Barss Music Theory Books are available from Primer to Level 12 and feature sight reading examples and 21st century theory – perfectly appropriate for each grade! Students will take pride in completing their assigned books and creating their very own reference library. Color coded covers make it easy to identify each grade level. Answer books are also available.
What People Are Saying About The Barss Music Theory Books
"I applied to graduate music school and used your books as a refresher prior to taking the graduate theory tests. I highly recommend these books to anyone who wants a better, clearer, more concise understanding of music theory at any level, including teachers. I am a big fan!"

Kim Ryan, Cleveland, Ohio
"My students love your books. One boy in Level 5 has repeatedly told me that your books are 'so much better' than the ones we used before. (The series I used in the past moved quicker and was more advanced than was necessary for each level of the VMTA syllabus.) I have one very young boy (6 years old) ... SEE FULL TESTIMONIAL

Narciso Solero, Arlington, VA
"My students find The Barss Theory Books very helpful and also so much fun to learn from. Well structured and a big help in preparing students for the state theory exams, these books are a wonderful resource that make incorporating theory in everyday lessons so much easier. Thank you so much for these great books!"

Ruta Smedina Starke, NCTM